GSM VoIP Gateway Explained
In this section you can read about GSM VoIP gateways: what they are, what they can be used for and why they are important in IT telephony. If you are interested in having a multimedia communication system that is capable of initiating high quality international calls, then this page was written for you.
The gateways are not used only for the connection of two or more devices, but to manage the transfer of the different types of data: for example, there is a computer in a corporation's building where one of the employees has to call another employee who works outdoors and has a mobile phone that belongs to the corporations's communication system:
As the first employee initiates the call, it goes through the server that sends it to the proper destination through a VoIP VLAN network to the VoIP GSM gateway. The gateway converts the VoIP call into a GSM call in order to make the mobile phone able to receive it. (Figure 1)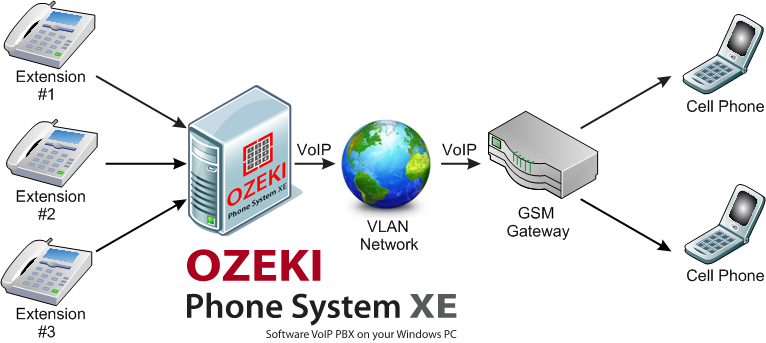 Figure 1 – A VoIP call sent to a mobile phone with the help of the VoIP GSM Gateway
GSM, VoIP, Gateway
GSM Global (System for Mobile Communications) is a protocol, a telecommunication standard. It is used in the case of second generation (2G) phoning devices, by mobile phones in particular.
VoIP, or Voice over IP is also a protocol that describes how the data packets are to be sent via the Internet. Internet Telephony (VoIP calling) can be done with VoIP technology.
Gateways are used for connecting servers with phoning devices. A GSM VoIP gateway is a physical tool that connects GSM devices and VoIP clients to a server.
There are several types of gateways that can be built in a high-tech communication system, according to the types of devices that are needed: GSM VoIP gateway, VoIP PRI (Primary Rate Interface) gateway, VoIP BRI gateway, SMS gateway, PSTN gateway (Public Switched Telephone Network), etc.
GSM VoIP Gateways in Use
If you intend to increase your accessibility and modernise your old communication system, the best solution is to use an IP PBX or PABX (Internet Protocol Private Branch eXchange or Private Automated Branch eXchange): that is a server where you can connect your worker's corporate phoning devices to. Once you have a server that you can use and the devices, you can connect them through a VoIP gsm gateway.
If you want to use a communication system that works like the one above, you can have an account in Ozeki Phone System XE that provides you with a server, gateways and a graphical user interface that is easy to configure, so a full feature communication system where you have nothing else to do but to register and enjoy high quality communication.